 Jazznds and James pledge a program of complete and total amnesty along with an expedited pathway to wignatship for Trump era refugees, dig into white pills embedded in Michael Jensen's sometimes incoherent prescriptions for combating extreeeeemists and fighting accelerating "radicalization", and take a tour of the various Jewish clemency campaigns afoot in the waning days of Trump's presidency. After the break, it's a long-overdue mega nnndeep-nnndive into the Mega Group, a coterie of wealthy and influential Jews who, via an elaborate scheme of weaponized philanthropy, manage and direct an array of Jewish causes to suit their agenda while increasing and consolidating their power. If it's Sunday, it's FTN!
Podcast RSS: http://fash-the-nation.libsyn.com/rss
Dissident Mag: http://dissident-mag.com
Dissident-Mag RSS: http://dissident-mag.com/feed/
Get VirtualShield: HERE
Get KosChertified: HERE
See Kyle!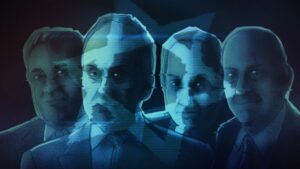 Episode Topics:
00:00:00 - Jig's Up
00:14:00 - Radical Accelerationism
00:45:00 - Greedy Jaaaash Pardon Schemes
01:03:00 - BREAK
01:07:09 - This is How We MEGA
01:35:00 - Weaponized Jewish Philanthropy
02:00:00 - Taubman's Mall Empire
02:30:00 - Wexner's Iraq War Agitprop
02:40:00 - Holohoax Gang Gang
03:00:00 - Waldheim Gay Op
03:20:00 - Outro