 Jazz and Warren believe in a fair and open marketplace of anti-semitic ideas. After decades of extreme levantine regulatory schemes strangling our clout economy, we can no longer have an over-bearing massive unchecked Big Nose deciding which shots are hot or not. It's time to get Big Nose out of the way and unleash the true power of the free market as our uncle intended!
Get Vetted:  [email protected]
FTN Weekend RSS: http://fash-the-nation.libsyn.com/rss
FTN Telegram: t.me/fashthenation
Dissident Mag: http://dissident-mag.com
Get KosChertified: HERE
Antelope Hill Publishing:  https://www.antelopehillpublishing.com/
---
See Kyle!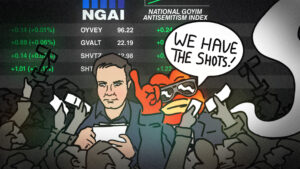 Episode Topics:
00:00:00 - Stop the Spread of JUDEO-22
00:40:00 - Begging the Jewish Question
01:00:00 - Military Pettiness
01:27:00 - Gaslighting Caroline Glick
02:15:00 - We're All Anti-Semites Now
02:45:00 - Neurotic Jewface
02:58:00 - Endokomuna Fashwave PRL