 Jazz is joined by Warren Balogh of Modern Politics to take several victory laps on the Kyle Rittenhouse verdict and why this is an important outcome for Whites, but also why this is an unmitigated failure for Jewish power in America, the many critical fault lines that led there, and what must be done to press them further. After the break, we have the latest updates from CVille, including revelations about the confirmed Jewishness of Karen Dunn. Finally, we turn our attention to the McMichael's case unfolding in Georgia and a call to action as all three cases unite the right.
Get Vetted:  [email protected]
FTN Weekend RSS: http://fash-the-nation.libsyn.com/rss
FTN Telegram: t.me/fashthenation
Dissident Mag: http://dissident-mag.com
Get KosChertified: HERE
Antelope Hill Publishing:  https://www.antelopehillpublishing.com/
---
See Kyle!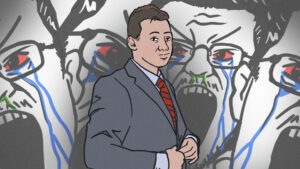 Episode Topics:
00:00:00 - See Kyle for the Win
00:50:00 - Seething Resting Cunt Face
01:20:00 - Critical Jewish Theory
02:08:00 - BREAK
02:10:00 - Better Call Cantwell
02:30:00 - 2 Do 100
02:50:00 - Call to Action
03:25:00 - Endokomuna Fashwave PRL