James is busy cramming for his meteorology midterms so Jazz is joined by Warren Balogh of Modern Politics to put some hours on the content clock discussing the gradual process by which white women have been pushed out of the progressive stack to become targets of open racial hostility in the same manner as white men. Taken from a macro-perspective, emancipation, from black slavery to women's rights and beyond, has been used as one of the primary means by which Jews have successfully advanced the cause of Zionism since its modern inception, setting the stage for world revolution in the 18th-20th centuries.
Get Vetted:  [email protected]
FTN Weekend RSS: http://fash-the-nation.libsyn.com/rss
FTN Telegram: t.me/fashthenation
Dissident Mag: http://dissident-mag.com
Get KosChertified: HERE
Antelope Hill Publishing:  https://www.antelopehillpublishing.com/
---
Details for Warren Balogh and Modern Politics:
Modern Politics Odysee: https://odysee.com/@modernpolitics:0
Modern Politics Telegram: https://t.me/modernpolitics
Warren's Telegram: https://t.me/ahab88
Emily's Telegram: https://t.me/EmilyYoucis
"A New Nobility of Blood and Soil" by Richard W. Darré w/ Foreword by Warren Balogh: https://www.antelopehillpublishing.com/product-page/a-new-nobility-of-blood-and-soil
See Kyle!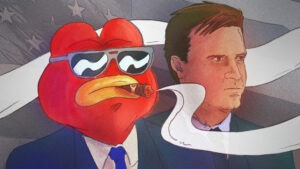 Episode Topics:
00:00:00 - Retro Open
00:25:00 - Hail Wagner
00:40:00 - Anti-White Ubiquity
01:00:00 - Inverted Totalitarianism
01:30:00 - Another Safety and Justice DA
01:50:00 - Kyrsten Sinema as the White Scapegoat
02:04:00 - BREAK
02:08:00 - Blood and Soil Nationalism Not Found
02:28:00 - White DnC
02:50:00 - Dispensing with Irony
03:20:00 - Emancipate to Enslave
04:00:00 - Lobbying Lincoln
04:25:00 - HBD Horst Wessel
04:29:00 - Endokomuna Fashwave PRL