Jazz and James revel in the latest FBI buffoonery as they awkwardly attempt to solve a real crime, AOC sheds kosher crocodile tears over her fake anti Israel stance, Evergrande shots get rehashed, nnntotally mmmbased Poland caves to big faggot, Ukraine passes one of the strictest anti-semitism laws in the world, the rising "Ann Coulter" of France is a Jew, why Tucker/Chuck's desperate "pro-white" rhetoric is fake, gay, and designed to trap you, Minnesota threatens to throw the Amish off their land, and the horrific event that led to Hitler's stance on vax mandates. After the break, James takes you on a nnndeep-nnndive of the kosher certification racket.
Get Vetted:  [email protected]
Podcast RSS: http://fash-the-nation.libsyn.com/rss
FTN Telegram: t.me/fashthenation
Dissident Mag: http://dissident-mag.com
Dissident-Mag RSS: http://dissident-mag.com/feed/
Get KosChertified: HERE
Get VirtualShield: HERE
Antelope Hill Publishing:  https://www.antelopehillpublishing.com/
See Kyle!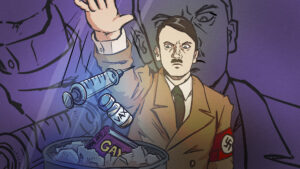 Episode Topics:
00:00:00 - Brazilian Roasties
00:17:00 - Alexandria's Lyin'
00:20:00 - Evergrande Rehashed
00:25:00 - Poland Surrenders to Actual Gay Male Super Soldiers
00:30:00 - 0.02 Does 6 Million
00:37:00 - Francofinkery
00:50:00 - Tuckachuck Kosher "Pro-White" Advocacy
01:21:00 - Minnesotah Ice
01:30:00 - A Word from a Real Doctor
01:40:00 - Anti-Vax Hitler
01:59:00 - BREAK
02:03:00 - Kosher Deep-Dive
02:18:00 - Talmudic Particularism
02:33:00 - Kosher Meat Strike
03:00:00 - More Goy Cattle Than You Realize
03:15:00 - Endokomuna Fashwave PRL