Jazz and James eternally BTFO vaxcels as cancelled Pfizer boosters stem from Pfizer's own study showing widespread permanent cardiac damage in boys aged 16-17. The Bossche take gets confirmed by hotspots in max vax, Congress and the Judiciary are vax exempt, the AMA targets doctors and nurses as hospitals contend with a mass exodus of the same, Straya's media blackout, and the U.S. finally admits it killed 7 innocent children and 3 adults in Afghanistan. After the break, James breaks down the leaked docs from Facebook/Instagram revealing a two-tier system of censorship and how the pursuit of virtual status has driven people to suicide en masse.
Get Vetted:  [email protected]
Podcast RSS: http://fash-the-nation.libsyn.com/rss
FTN Telegram: t.me/fashthenation
Dissident Mag: http://dissident-mag.com
Dissident-Mag RSS: http://dissident-mag.com/feed/
Get KosChertified: HERE
Get VirtualShield: HERE
Antelope Hill Publishing:  https://www.antelopehillpublishing.com/
See Kyle!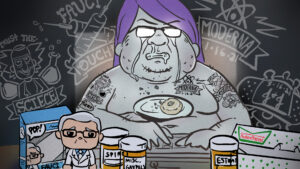 Episode Topics:
00:00:00 - Vetted Masterclass
00:05:00 - Vaxcels BTFO
00:20:00 - Pfizer Study Fraud
00:45:00 - Bossche Takes Confirmed
01:00:00 - Mandate for Thee
01:25:00 - Oi Doc
01:40:00 - Straya Blackout
01:55:00 - Polarity Shift
02:10:00 - Paragon of Human Rights
02:30:00 - BREAK
02:33:00 - Loicense to Fink
03:00:00 - Instadead
03:25:00 - Capt. Cook Allegories
03:39:00 - Endokomuna Fashwave PRL