 Jazz and James disagree on the substance of the PVPSA, Black Cube Coffee exposes itself as a Jewish grifting scheme that (surprise, surprise!) hates White people, Fentanyl deaths vs. COVID deaths and genocidal neoliberal selective authoritarianism, South Africa spent years murdering its White farmers so it can starve in 3 days, more Cuba shots and linking anti-vax nations to gay ops, and the stark juxtaposition of "repressive foreign regimes" and the United States as "the pinnacle of human rights". After the break, the nnnguys speculate on what war with Iran in January 2021 might have looked like had Trump acted on Netanyahu's demands, General Milley's obsession with Nazism, and the only reason the FBI ever bothered to investigate pedophile Larry Nassar. If it's Sunday, it's FTN!
Podcast RSS: http://fash-the-nation.libsyn.com/rss
FTN Telegram: t.me/fashthenation
Dissident Mag: http://dissident-mag.com
Dissident-Mag RSS: http://dissident-mag.com/feed/
Get VirtualShield: HERE
Get KosChertified: HERE
See Kyle!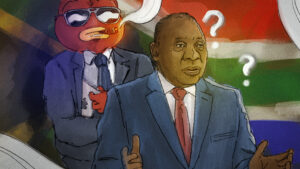 Episode Topics:
00:00:00 - PVPSA
00:05:00 - Black Cube Coffee
00:20:00 - The Real Genocidal Authoritarians
00:48:00 - Safa Starvation
01:00:00 - Bix Nood Gay Ops
01:20:00 - Universal Repression
01:45:00 - BREAK
01:48:00 - Stop the Steal, Start the War
02:00:00 - Hitlerphobia
02:15:00 - Quora Rabbis
02:30:00 - Limited Follow-Up
02:48:00 - Legion - Sarmaci