Jznds and James swap drywall tricks on Father's Day eve before white pills abound in Karlyn Borysenko's meltdown. From there, it's a deep-dive into China's societal health; from collapsing fertility rates to opting out of family formation entirely, 30 million incels, debt slavery, PLA bar lowering and feminization, and automation that makes the U.S. look like the land of the Luddites. BlackRock, Blackstone, and JPMorgan close in on the $15.3 trillion locked away in private Chinese savings accounts amidst a corporate raider campaign that would make the Reagan era green with envy. The ultimate litmus test, Holocaust education, is explored in the context of undeniable Jewish ascendancy. After the break, James doles out shots on the Bibi post-mortem and how the media exaggerates Israel's increasingly sloppy military and intel exploits. If it's Sunday, it's FTN!
Podcast RSS: http://fash-the-nation.libsyn.com/rss
Dissident Mag: http://dissident-mag.com
Dissident-Mag RSS: http://dissident-mag.com/feed/
Get VirtualShield: HERE
Get KosChertified: HERE
See Kyle!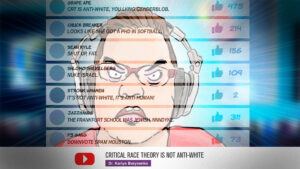 Episode Topics:
00:00:00 - Wallbanger
00:10:00 - Jigglypuff 2.0
00:35:00 - Gay Adoption Caveats
00:50:00 - Turbulent Truth Telling
01:05:00 - Fertility Freefall
01:30:00 - Automation Ground Zero
01:45:00 - Coming Soon: PLGay
01:55:00 - 30M Incels
02:05:00 - $15T Piracy
02:20:00 - Muh Ereven Million
02:52:00 - BREAK
02:55:00 - Bibi Post-Mortem
03:15:00 - Media-Suppressed Ls
03:30:00 - Israel's Iran Paradigm
03:44:00 - Legion "Żywioły Ziemi"