Jazznds and James have your latest firmware update, this time on China's Israel's Belt and Road Initiative and its engine of debt-trap diplomacy. Shibboleths will be crushed as the nnnguys take a look back at the totally coincidental parallels between the fall of Old Europe, the Russian Revolution, and the termination of Imperial China, the recently discovered letter in which Sun Yat-Sen prostrated himself before Zionism, the inextricable post-WWII bonds forged between Israel, China, and Russia, and how Jonathan Pollard, Rafi Eitan, and Robert Maxwell ensured its enduring permanence. Such a drubbing of conventional wisdom would not be complete without ultimate shots being delivered on the Uyghurs. After the break, James breaks down just how Jewish the White farmer lawsuit has become - kosher pro-white advocacy right on schedule. If it's Sunday, it's FTN!
Podcast RSS: http://fash-the-nation.libsyn.com/rss
Dissident Mag: http://dissident-mag.com
Dissident-Mag RSS: http://dissident-mag.com/feed/
Get VirtualShield: HERE
Get KosChertified: HERE
See Kyle!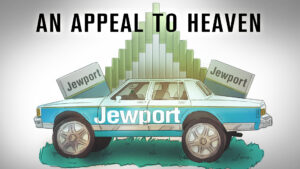 Episode Topics:
00:00:00 - Become Wignat
00:15:00 - Debt-Trap Diplomacy
00:40:00 - Belt and Conduit
00:55:00 - Sasackleroons
01:05:00 - Sun Yat-Semite
01:20:00 - IDK Who's Backdooring Who
01:35:00 - Maxwell and Chinese Secret Service
01:55:00 - ADL Espionage
02:05:00 - Chabad Lubavitcher Assange
02:20:00 - Uyghur Shots
02:39:00 - BREAK
02:42:00 - White Farmer Jewsuit
03:00:00 - Kosher Pro-White Advocacy
03:25:00 - Legion - Wandea