As the Party of Trump enjoys its legacy of exponential Israeli settlement growth, Jazznds and James hang ten on the Kali Yuga as America Fistulas cope with Team Trump-promoted Bruce Misgender for CA Gov, the expanding intra-conservative dialectic designed to entrap J-woke dissidents, and shots on the made-to-fail Ron DeSantis MMMBig NNNTech bill and upcoming Joomer rally. The nnnguys also examine just how much conservatism always has been a party of abject anti-Whiteness with a look at the obfuscation campaigns run by YAF against Eastern Europe in the 1960s as a distraction from Hart-Celler and Civil Rights legislation. After the break, James takes a second look at the quietly, but rapidly, developing Matt Gaetz case. If it's Sunday, it's FTN!
Podcast RSS: http://fash-the-nation.libsyn.com/rss
Dissident Mag: http://dissident-mag.com
Dissident-Mag RSS: http://dissident-mag.com/feed/
Get VirtualShield: HERE
Get KosChertified: HERE
See Kyle!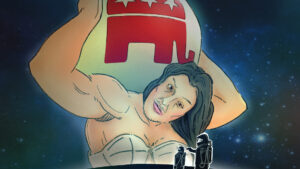 Episode Topics:
00:00:00 - Bruce Misgender
00:20:00 - Cutting Edge Conservatism
00:35:00 - America Fistula Reacts
01:00:00 - MMMBig NNNTech Shots
01:20:00 - Permanent One State Solutions
01:50:00 - YAF Cancel Culture
02:10:00 - BREAK
02:15:00 - Joel Greenberg Rabbit Hole
02:35:00 - About Those Driver's Licenses
02:55:00 - For Whom the Bagpipe Tolls
03:10:00 - Just Venmo Me Bro
03:25:00 - Legion - Krzyzowcy XX Wieku