 Jazznds and James wax nostalgic about their early days in politics as they assess the good, the bad, and the finked of Rush Limbaugh, with half their lightswitch brains tied behind their backs, just to make it fair. After the break, the nnnguys flood the ballast tanks and embark on the ultimate Sackler deep-dive, complete with leaked Sackler depositions, Jewish legal trickery at the FDA, DOJ, and in the court of Judge Dan "It's the Jewish Thing to Do" Polster, Oxys for 11-year-olds, and the Sackler family's international campaign to replicate the U.S. opioid genocide on a global scale. If it's Sunday, it's FTN!
Podcast RSS: http://fash-the-nation.libsyn.com/rss
Dissident Mag: http://dissident-mag.com
Dissident-Mag RSS: http://dissident-mag.com/feed/
Get VirtualShield: HERE
Get KosChertified: HERE
See Kyle!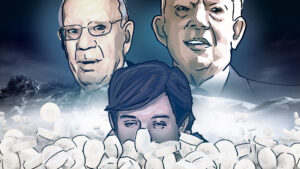 Episode Topics:
00:00:00 - Rush Tribute Montage
00:09:00 - Show Starts Here
00:30:00 - Don't Say Jewish Lobby in NYC
00:50:00 - Gloria Allred: SHUT IT DOWN
01:05:00 - Happy Meal Conservatism
01:20:00 - Oxys, Viagra, and Epstein Lawyers
01:35:00 - Really Makes Ya Fink
01:55:00 - Obscene Profit Timeout
02:08:00 - Shattering Stigmas
02:18:00 - Key Jewish Opinion Makers
02:32:00 - Prescriber Profiling
02:47:00 - Targeting Germany
02:57:00 - Blizzard People
03:25:00 - It's the Jewish Thing to Do
03:40:00 - Oxys for Kids!
03:50:00 - Sacklers Go Global
04:02:00 - Banking Queen