Jazznds and James uphodl the highest expectations in bringing you the latest dollacaust updates and shots. Steven A. Cohen ragequits Twitter and Jaaaash angerey reacts abound as one of their main vectors for financial domination takes a significant 12 digit L, further exposing a thoroughly rigged system and panicked, error-prone Jewish power to millions. If it's Sundey, it's FTN!
Podcast RSS: http://fash-the-nation.libsyn.com/rss
Dissident Mag: http://dissident-mag.com
Dissident-Mag RSS: http://dissident-mag.com/feed/
Get VirtualShield: HERE
Get KosChertified: HERE
See Kyle!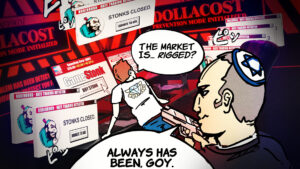 Episode Topics:
00:00:00 - Not This Time
00:10:00 - Cohen Ragequits
00:25:00 - Short to Go Long
00:35:00 - Jaaash Angerey Reacts
00:55:00 - United We Stand
01:05:00 - Whaddya Need 1 Stonk For?
01:35:00 - BREAK
01:38:00 - Regulation Via Litigation
01:55:00 - AMC Shot
02:10:00 - Turner Diaries to the Moon
02:25:00 - Outro