Jazznds and James bring you the latest developments, shots, and clout-fulfillment from the Capitol Siege in a record-breaking 3.75+ hr FTN. Jazznds uncovers the smoking gun that confirms the premeditated trap springing by Trump, his administration, and bad actors at the Pentagon with deep ties to Israel and the IDF, laying bare the preparation undertaken for the quickly accelerating full-spectrum infringement of the civil and human rights of thousands of American citizens. After the break, the FBIANTIFAADL Doxathon and silencing of political voices is fully underway as the most sordid legal minds in the country converge to invent multiplier charges to enhance the sentencing of those who committed no crimes. Lastly, the nnnguys react to a stack of audio from the past few days and look ahead at what comes next. If it's Sunday, it's FTN!
Dissident-Mag article on the Pentagon shot: http://dissident-mag.com/2021/01/11/trumps-post-election-pentagon-shakeup-ensured-trap-was-sprung-for-patriots-at-the-capitol/

Podcast RSS: http://fash-the-nation.libsyn.com/rss
Dissident Mag: http://dissident-mag.com
Dissident-Mag RSS: http://dissident-mag.com/feed/
Get VirtualShield: HERE
Get KosChertified: HERE
See Kyle!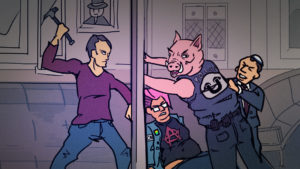 Episode Topics:
00:00:00 - Violence for Thee
00:15:00 - FTP
00:30:00 - Trump Montage
00:45:00 - They Let Them In Indeed
01:00:00 - Pentagon Shot
01:48:00 - BREAK
01:51:00 - FBIANTIFAADL Doxathon
02:11:00 - I'm White. I'm a Nationalist.
02:25:00 - Pipe Bomb Shot
02:40:00 - CCP Laffin
02:50:00 - Audio Drop Reacts
03:20:00 - This is What Happens Larry
03:45:00 - Outro