Jazznds and James tell the story of the Weihnachtsfrieden (Christmas Truce) of 1914 between British and German soldiers in the early stages of WWI, made possible only by millennia of shared history, heritage, culture, blood, and ultimately, destiny. Merry Christmas from FTN to all of our listeners and your families. We will return to regularly scheduled pogromming on 12/31.
Podcast RSS: http://fash-the-nation.libsyn.com/rss
Dissident Mag: http://dissident-mag.com
Dissident-Mag RSS: http://dissident-mag.com/feed/
Get VirtualShield: HERE
Get KosChertified: HERE
See Frontierland!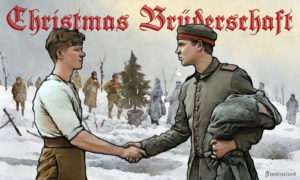 Episode Topics:
00:00:00 - Context of the Great War
00:05:00 - Morale Nosedive
00:10:00 - Stalemate and Truce
00:15:00 - Weihnachtsfrieden
00:18:00 - The Football Match
00:25:00 - Suppression Attempts
00:28:00 - Bruderschaft