Jazznds and James talk Cyberpunk 2077, a GOP-appointed Jewish judge in CA gives strip clubs permission to stay open and make up their own COVID rules, fresh details on Marc Lipsitch, the fragile white-hating Jew featured in the NYT's COVID white genocide piece, plus canaries in the coal mine sing as social distrust rises to unprecedented levels, catalyzed by growing corruption, rising economic inequality, increasing ethnic diversity, and abject political polarization. After the break, the negro fatigue-induced hangover of summer 2020 is leading proponents of anti-racist propaganda to question not only its efficacy but the reality that it is having the opposite effect, while blacks who take matters of championing anti-racism in the workplace into their own hands fail - and fail spectacularly. If it's Sunday, it's FTN!
Podcast RSS: http://fash-the-nation.libsyn.com/rss
Dissident Mag: http://dissident-mag.com
Dissident-Mag RSS: http://dissident-mag.com/feed/
Get VirtualShield: HERE
Get KosChertified: HERE
See Kyle!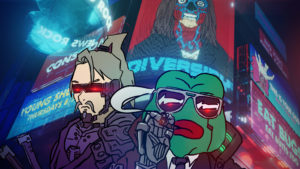 Episode Topics:
00:00:00 - Cybermmmmbud
00:15:00 - GOP Makes It Rain
00:22:00 - Rehash the Shoah
00:40:00 - COVID 9/11
01:00:00 - Event Horizionism
01:55:00 - BREAK
02:00:00 - BLM Blowout 2.0
02:10:00 - Allyship Alienation
02:20:00 - The Revisionism Nudge
02:35:00 - Anti-Racism Reverse Pyschology
02:50:00 - When Blacktivism Self-Owns
03:13:00 - Outro