Jazzinds and Allzp go digging in the FTN take bin to highlight some winners before unloading the latest shots, including uncovering the "Stop the Steal" grift hive, its players, their coordinated demands for cash and cannon fodder, and their low-stakes game of high-margin, designed-to-fail election suits and the nowhere they're likely to lead, why the Kobach Commission on Election Integrity was really disbanded, and how Biden has already two-uped Trump's Jewish legacy. If it's Sunday, it's FTN!
Podcast RSS: http://fash-the-nation.libsyn.com/rss
Dissident Mag: http://dissident-mag.com
Dissident-Mag RSS: http://dissident-mag.com/feed/
Get VirtualShield: HERE
Get KosChertified: HERE
See Kyle!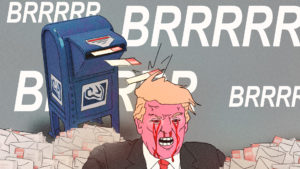 Episode Topics:
00:00:00 - Deck Gun Status: Swung
00:20:00 - Shots Unloaded
00:45:00 - Stop the Steal Grift Hive
01:25:00 - Joe Two Ups Donald
01:40:00 - BREAK
01:43:00 - Low Stakes/High-Margin
02:20:00 - Kobach Commission Mission Accomplished
02:48:00 - Outro