 Jazzinds and Allzp make some extremely bold election predictions, Steve Bannon gay ops Tucker, deep-fakes abound while the real October surprises are the ones you aren't supposed to notice, why polling has been designed for volatility, and how Pennsylvania 2020 could become just like Florida 2000. In the second half, the nnnguys dig into the long partnership between Les Wexner and Deborah Lipstadt, including Wexner's million-dollar legal defense fund for Libstadt in the David Irving libel suit, why there's a new Wexner center in Detroit, and the ongoing Wexner-Lipstadt webinar entitled "Antisemitism: Here. Now." If it's Sunday, it's FTN!
Podcast RSS: http://fash-the-nation.libsyn.com/rss
Dissident Mag: http://dissident-mag.com
Dissident-Mag RSS: http://dissident-mag.com/feed/
Get VirtualShield: HERE
Get KosChertified: HERE
See Kyle!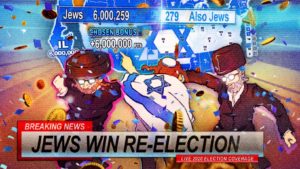 Episode Topics:
00:00:00 - MMMBig MMMBold Predictions
00:15:00 - Bannon Gay Ops Tucker
00:30:00 - The Real October Surprises
00:40:00 - The American Dream Plan
01:00:00 - Polling Volatility Paradigm
01:10:00 - PA 2020 = FL 2000
01:33:00 - BREAK
01:37:00 - Never Again
02:05:00 - Wexner-Lipstadt Isms
02:30:00 - Anti-Semitism. Here. Now.
02:53:00 - Outro