 Jazz and Borzoi peel back the layers of predictable psychopathy of would-be Jewish terrorist Alexander Hillel Treisman and why the media deep six millioned the 5 month old story of his arrest. The Chinese Communist Podcast also predicted thith on the Trump admin-backed outcome for Purdue Pharma as well as the absolute state of Jewish demographic decline. After the break, it's a deep-dive into the liberal Jewish origins of Barack Obama's rise to power and how its factional opposition to the already inevitable Jignat ascendancy spearheaded by Netanyahu, the Citizens United decision, and the Arab Spring led to the rise of Donald Trump and kosher fake nationalism around the world. If it's Sunday, it's FTN!
Podcast RSS: http://fash-the-nation.libsyn.com/rss
Dissident Mag: http://dissident-mag.com
Dissident-Mag RSS: http://dissident-mag.com/feed/
Get VirtualShield: HERE
Get KosChertified: HERE
See Kyle!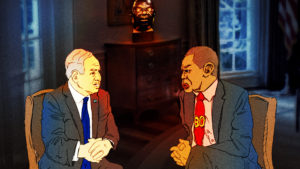 Episode Topics:
00:00:00 - Max Hillel
00:30:00 - CCP Predicted Thith
00:45:00 - Audit the Census
01:04:00 - BREAK
01:07:00 - Bibi v. Obama NNNDeep-Dive
01:24:00 - Obama's Jaaaash Rise to Power
01:40:00 - Libtard Holocaust Revisionism
02:05:00 - Bankrolling a Schvartze
02:30:00 - Jack Ryan Gay Op
02:40:00 - Settlement Non-Freeze
02:50:00 - 2010 Election
03:00:00 - Arab Spring
03:05:00 - 2016 and Beyond
03:16:00 - Outro