Jazz and James find Deutsche Bank hangin in da batchroom, more evidence of sunken ship Trumpism as the ultimate 2020 election shot, Kanye spills the beans on the Finkel indy op, and the man - and network - who made Stephen Miller, as Jazz goes full Pepe Silvia on Miller, Horowitz, Gorka, Lauder, Trump, Dershowitz, Cohn, Stone, Breitbart, Drudge, Birnbaum, Finkelstein, Netanyahu, Glick, Feith, Gaffney, Lewandowski, Torossian, and Perle. In the second half, it's the chewy bono on Beirut, complete with dancing Israelis, and the new era of gay ops. If it's Sunday, it's a canard-laden, dot-connecting FTN!
Podcast RSS: http://fash-the-nation.libsyn.com/rss
Dissident Mag: http://dissident-mag.com
Dissident-Mag RSS: http://dissident-mag.com/feed/
Follow Us on BitChute: https://www.bitchute.com/channel/twn0Lh90YxuC/
Get VirtualShield: HERE
Get KosChertified: HERE
See Kyle!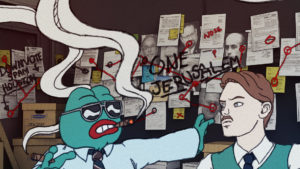 Episode Topics:
00:00:00 - Deutsche Bank in da Batchroom
00:22:00 - Kanye Black Bag Confirmed
00:37:00 - The Network That Made Stephen Miller
00:55:00 - The Perversity of White Identity
01:05:00 - The Finkelstein Network
01:24:00 - One Jerusalem
01:50:00 - BREAK
01:53:00 - Chewy Bayroot Bono
02:25:00 - Dancing Israelis
02:45:00 - We Gay Op Who We Can
02:58:00 - Outro