Amidst a dense blanket of finkelthink smokescreens, Jazz and James not only disprove the GOP's fake and gay argument that an extra $600/week is keeping people from going back to work, but show that employment is actually rising where the extra cash helped unemployed workers the most. Then, as the kosher dialectic has now fully coalesced around the battle over school choice, Trump's DOE is circumventing race-neutral components of the Civil Rights Act to establish racial quotas for classroom diversification while conservatives push school choice as an overwhelming benefit for blacks. In the second half, the nnnguys dig past superficial Epstein/Maxwell headlines to connect many big dots on Deutsche Bank, Esther Salas, Den Hollander, Kroll and Associates, Larry Summers, looting the Soviet Union via elaborate privatization schemes, 9/11, the Iraq War, Chuck Weinstein, and microfinancing as the engine for human trafficking of labor and a pipeline for leveraging the degenerate proclivities of every human lever of political power required for Jewish domination of the west. If it's Sunday, it's FTN!
Podcast RSS: http://fash-the-nation.libsyn.com/rss
Dissident Mag: http://dissident-mag.com
Dissident-Mag RSS: http://dissident-mag.com/feed/
Follow Us on BitChute: https://www.bitchute.com/channel/twn0Lh90YxuC/
Get VirtualShield: HERE
Get KosChertified: HERE
See Kyle?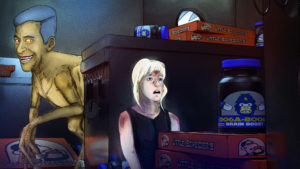 Episode Topics:
00:00:00 - Have Some AIDS
00:06:00 - GOP 6 Hundo Lies BTFO
00:32:00 - Trumpism BDS
00:50:00 - The Finkelthink of School Choice
01:22:00 - BREAK
01:26:00 - Ith Not Really a Thhhing
01:35:00 - Esther Salas Shooting Explained
01:45:00 - The Summers Shot
01:57:00 - The Kroll to Everything
02:27:00 - "A Heck of a Racket"
02:40:00 - Dersh and Tuck
02:50:00 - Outro