Jazz and James react to the latest 2020 census data, new Cook Political Report, and Brooks Brothers bankruptcy as anti-white hatred reaches unprecedented highs. The nnnguys also discuss why the rapid concentration of wealth, subsequent industrialization, and subjugation that came as a result of the conditions created by the Black Plague led to a populist reaction that was channeled into centuries of revolution across Europe and how it parallels what we face today. In the second half, in light of Trump's commutation of Roger Stone's prison sentence, it's time to go back to the well on Stone, Cohn, Trump, Epstein, this time looking into the Catholic Church's involvement in the sordid world of political blackmail, how it's connected to Iran-Contras, and how this system works to ensure whites stay tricked. Please be sure your jimmies are in their upright and locked position for the duration of the flight. If it's Sunday, it's FTN!
RSS: http://fash-the-nation.libsyn.com/rss
Get VirtualShield: HERE
Get KosChertified: HERE
Did you see Kyle's art?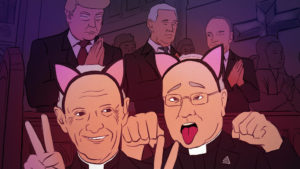 Episode Topics:
00:00:00 - Head or Chest 2020
00:14:00 - Census Datur
00:30:00 - Polling Copes
00:45:00 - Sparkle Bros
01:00:00 - Black Plague White Destruction
01:38:00 - BREAK
01:40:00 - Stone Cohn Trump Recap
02:00:00 - Franny and Roy
02:20:00 - Eminence of the Rings
02:40:00 - Covenant House of Horrors
03:00:00 - Iran Contras Supply Side Economics
03:12:00 - Outro