 Jazz and James appeal to agency before pivoting to the prescience of Trump playing to a virtually empty house in Tulsa, a referendum on imagined racisms, Philosemitism 2024, and telling you what to think on the latest EOs and SCOTUS decisions. Then in the second half, the boys use a recent glaring example of kabuki theater to dive back into the Roy Cohn story, this time to tell the tale of fellow traveler - in perhaps more ways than one - Roger Stone, with a special Hazony montage tucked in at the end. If it's Sunday, it's FTN!
RSS: http://fash-the-nation.libsyn.com/rss
Get VirtualShield: HERE
Get KosChertified: HERE
Did you see Kyle's art?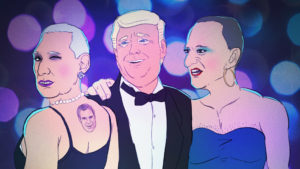 Episode Topics:
00:00:00 - Appeal to Agency
00:30:00 - Referendum on Imagined Racisms
00:50:00 - Philosemitism 2024
01:00:00 - Telling You What to Think
01:10:00 - BREAK
01:13:00 - Talmudry Theater
01:33:00 - Stone Cohn Cinco de Milo
01:53:00 - Brooks Bros Riot
02:23:00 - Hazony Montage
02:29:00 - Outro