 Jazz and James discuss the 2020 J lash, cargo cult candidates, what police disbandment means in practice, and qualified immunity explained. After the break, the boys look forward to Juneteenth, but not in the way you might think. Grab those dive tanks and snorkel masks it's time for one of FTN's more thunderstriking deep-dives on contemporary politics: "Lying. Filthy. Subversive. The Roy Cohn Story." If it's Sunday, it's FTN!
RSS: http://fash-the-nation.libsyn.com/rss
Get VirtualShield: HERE
Get KosChertified: HERE
Did you see Kyle's art?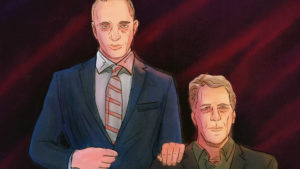 Episode Topics:
00:00:00 - J Lash 2020
00:20:00 - Cargo Cult Candidacy
00:45:00 - Police Disbandment in Practice
01:00:00 - Qualified Immunity
01:12:00 - BREAK
01:15:00 - Juneteenth
01:35:00 - Big Gay McCarthyism
01:45:00 - Menagerie of Pepes
01:57:00 - Wired for Sound
02:15:00 - Capos of the Rings
02:42:00 - Outro