In this 3 part deep-dive, Jazz and James revisit Bag Pipin Bill Barr's anti-trust threats to Silicon Valley tech firms as a vehicle for leveraging backdoor access to encrypted data, but this time with the ultra rich, rabbit hole laden context of Israeli companies like Pegasus, Cybereason, Cellebrite, Canny AI, Xcelerator, Cyabra Kadabra, Carbyne and how they're inextricably linked to Trump, Jeffrey Epstein, the Kushners, Paul Singer, and others. If it's Sunday, it's FTN!
RSS: http://fash-the-nation.libsyn.com/rss
Have you seen Kyle's art?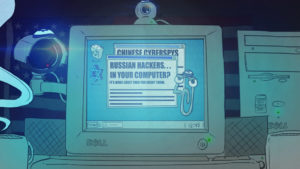 Episode Topics:
Part 1 (FTN 281)
00:00:00 - Revisiting Ghost Protocol
00:30:00 - Begasis XDD
00:50:00 - Cybertreason
01:25:00 - BREAK
Part 2 (FTN 284)
01:27:00 - Cyberedux
01:49:00 - Deepfake and Gay
01:59:00 - Xcelerationism
02:19:00 - Cyabra Kadabra
02:29:00 - 9/11 to 9-1-1
02:48:00 - BREAK
Part 3 (FTN 290)
02:50:00 - NoseGuard the Nation
03:35:00 - Progrom Risk Mitigation