 Jazz and James unpack Chuck Singer's China blitz GOP talking points memo and the planned bait and switch on U.S. aggression with China, before settling, once and for all, the question of 2016 election meddling, confirming what should have been so obvious from the very beginning. In the 2nd half, it's chuppah wedding crashers, Bannon's 2020 LMAO base election, and the nascent sammich effort to swap shit puppets for the Dem nomination, as internal/external battleground polling seems to indicate that Biden could actually win this thing. If it's Sunday, it's FTN!
RSS: http://fash-the-nation.libsyn.com/rss
Get VirtualShield: HERE
Get KosChertified: HERE
Did you see Kyle's art?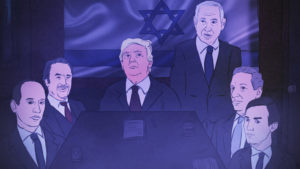 Episode Topics:
00:00:00 - Bernie's Boomer Big Box Emporium
00:10:00 - GOP China Memo
00:30:00 - China Bait and Switch
00:50:00 - Trump-Israeli Collusion
01:14:00 - Never Again
01:44:00 - BREAK
01:46:00 - Chuppah Wedding Crashers
02:00:00 - 2020 Base Election
02:25:00 - Shit Puppet Swap
02:46:00 - Outro