Jazz and James dissect a decades worth of kosher dialectics in the first half - from the origins of the Tea Party, to Occupy Wall Street, the Climate Debate, and Coronavirus - and how in each instance what began as legitimate populist angst and frustration is derailed, factionalized, and pitted against itself in order to insulate the U.S. political establishment and its financial backers from blowback and to obfuscate their real objectives. In the second half, we react to Ron Unz' mega piece on U.S.-China relations before going down the rabbit hole on Dr. Suess. If it's Sunday, it's FTN!
RSS: http://fash-the-nation.libsyn.com/rss
Get VirtualShield: HERE
Get KosChertified: HERE
Did you see Kyle's art?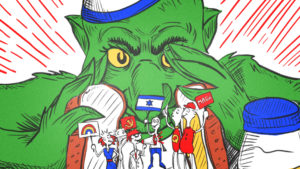 Episode Topics:
00:00:00 - Millennia of Tricks
00:11:00 - Gang of 6 Million
00:28:00 - Occupied by J Street
00:38:00 - Sierra Club Sammich
01:00:00 - COVID Dialectic
01:27:00 - BREAK
01:30:00 - The Gay Op Cries Out as It Strikes You
01:50:00 - Psyop Anthology
02:14:00 - Anti-China Chewy Bono
02:30:00 - Revisting Chuck Lieber
02:45:00 - Dr. Semite
03:12:00 - Outro