 Jazz and James flatten the astroturf of sputtering back to work chump protests that seem more like the disintegrating husk of a 2010 Glenn Beck rally than the energized base of an incumbent POTUS. Meanwhile Mr. Phil can't into math or medicine, Tucker hides behind a J-shield, impotent conservatives demand war with China, Sessions gets burned, and Lindsay Graham just might lose his Senate seat. In the second half, we flood the ballast tanks and dive deep into J leverage in China, from opium wars to Mao's inner circle, and into the transition from communism to capitalism, how China has been compromised, by whom, and the kosher dialectic that's been constructed to confuse everyone. If it's Sunday, it's FTN!
RSS: http://fash-the-nation.libsyn.com/rss
Get VirtualShield: HERE
Get KosChertified: HERE
Have you seen Kyle's art?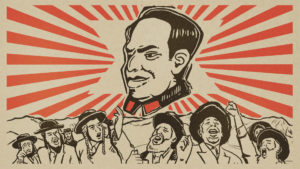 Episode Topics:
00:00:00 - Surfing the Kali Death Plateau
00:28:00 - Tacticool Constitutionalism
00:43:00 - Mr. Phil Does Maths
00:50:00 - Tucker Goes to Temple
01:05:00 - 11th Hour Copes
01:15:00 - BREAK
01:17:00 - Angry at Everyone But Them
01:27:00 - Talmudic East India Company
01:42:00 - Mao's Untouchables
02:02:00 - Beginning of the End
02:20:00 - Throwing Down Tentacles
02:28:00 - BlackPlanet
02:42:00 - Outro