 Jazz and James hit the big breaking topics out of the gate: urns piling up, millions of closed cell phone accounts, theater closures, reinfections, and rioting, Trump's refusal to release disaster unemployment funds, and 175K Instacart workers poised for a Monday strike. After the break, we pivot to the Fed-Treasury merger (implying) and a nnndeep-nnndive into BlackRock - who they are, what they own, and how they control just about everything. In part 3, we go snorkel depth on the Defense Production Act. If it's Sunday, it's FTN!
RSS: http://fash-the-nation.libsyn.com/rss
Get VirtualShield: HERE
Get KosChertified: HERE
Have you seen Kyle's art?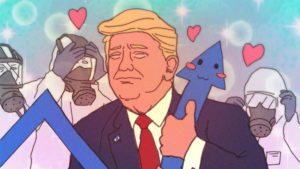 Episode Topics:
00:00:00 - Second Spike
00:30:00 - Strike First, Strike Hard
00:54:00 - BREAK
00:56:00 - Telling You What to Think About Massie
01:14:00 - BlackRock
02:16:00 - BREAK
02:18:00 - DPA Snorkel
02:58:00 - Bags in the Mail
03:12:00 - Outro