Hope you heeded McFeels' clarion call to put some champagne on ice earlier this past week after Glioblastoma announced it would no longer be receiving medical care for its insufferable year long battle with John McCain. A lifelong career of bloodlust and warmongering now at an end, McFeels and Halberstram mark the death of John McCain with an anti-eulogy of a life spent dedicated to undermining our most deeply held beliefs as patriotic white Americans. From there, it's onto the mainstreaming of white solidarity, disturbing new facts in the Mollie Tibbetts case, and Sessions bantz. It's all ahead on FTN!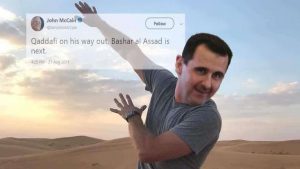 Download HERE
Show page: http://fash-the-nation.libsyn.com/
RSS: http://fash-the-nation.libsyn.com/rss
Check out Arktos here.
Episode Topics:
00:00:00 - Intro
00:02:00 - McTumored
00:50:00 - Mainstreaming White Solidarity
01:19:00 - Europa Report
01:29:00 - GOP Rot
02:11:00 - Sessions Bantz
02:23:00 - Perfect Distractions
02:39:00 - Kavanaugh Preview
02:43:00 - South Africa Report
02:50:00 - Outro