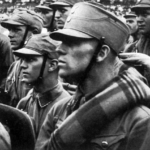 Prussian Socialism Episode 17: Lost Victories by Erich von Manstein
Who was Germany's greatest WWII general? According to Field Marschall Erich von Manstein, it was himself. In his 1955 classic Lost Victories, Manstein argues that if Hitler had only listened to him more, Germany could have won the war.
He might have had a point. In 1940, Manstein masterminded the invasion of France through the Ardennes. In early 1943, he ingeniously fought off a series of titanic Soviet offensives after the battle of Stalingrad, saving tens of thousands of Axis troops from almost certain capture or death. He even argued that Germany could have won at Kursk, and that the proposed invasion of England (Sealion) was not as crazy as it seemed.
Was Manstein smarter than his Führer? Or was he a braggadocious know-it-all? Gregory Conte and Hans discuss the life and legacy of one of Germany's top leaders and strategists.
Lost Victories by Erich von Manstein