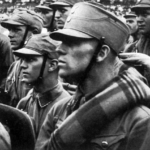 Prussian Socialism Episode 21: The Stab in the Back and Treaty of Versailles
In November of 1918, a leftist cabal overthrew Kaiser William II and sued for peace with their country's enemies. These traitors agreed to withdraw German troops from all enemy land and to surrender her fleet.
In so doing, they stripped Germany of all her bargaining power. It is not a surprise that, in the ensuing peace-conference, Germany was made a slave of International Money-Power.
This is not a controversial view. It is—more or less—the consensus of mainstream historiography.
And despite the cease-fire, Britain maintained its hunger-blockade, causing famine throughout Germany, Austria, and much of central Europe.
In the shame-treaty that followed, signed at Versailles seven months later, Germany was forced to accept guilt for starting the war and pay a huge indemnity, among other indignities.
This was indeed a stab-in-the-back. And yet even while acknowledging all of the facts, some still allege that this betrayal was a "legend" or "a conspiracy theory".
Jews, communists, and liberals fomented a revolution. They sold their country out. They delivered its people into the clutches of International Jewish Finance. How is that NOT a stab-in-the-back?
The Treaty of Versailles was the most crucial turning point of the last 200 years. It destroyed the European balance of power and, in due time, made the whole White World subject to Jewish money power.
Germany's fate has become our fate.
Join Gregory Conte and Warren Balogh as we discuss these epochal events.
Books mentioned:
Leon Degrelle. Hitler Born at Versailles
Roger Chickering. Imperial Germany and the Great War, 1914-18
Richard M. Watt. The Kings Depart: The German Tragedy—Versailles and the German Revolution
R. H. S. Stolfi. Hitler: Beyond Evil and Tyranny
Otto Ernst Remer. Kriegshetze gegen Deutschland (in German only)
German Wikipedia article on the Massacre of 50 in Sudatenland on 4 March 1919