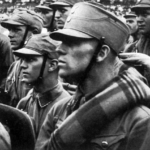 Prussian Socialism HALLOWEEN SPECIAL Blood-Sucking Jewish Vampires
Jews seem to have a thing for blood. For centuries, Europeans have accused them of stealing the blood of gentiles. Of course, Jewish academics and media deny the "blood libel".
Is this a case of Europeans irrationally hating Jews? Or a case of Jews doing evil things and getting called out for them?
In this episode, Greg Conte and William discuss the so-called blood-libel and other manifestations of Jews in European folklore. They reference the academic work of truth-seeking Jew, Ariel Toaff, who spent years digging through medieval Italian court-records to write his book "Passovers of Blood".
According to him a sect of "extremist" Ashkenazi Jews was kidnapping Christian children, torturing them, and drinking their blood. Who would have thought?
Happy Halloween! HH.