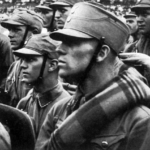 Prussian Socialism Episode 20: The Teutonic Knights and Germanic Holy War [featuring Warren Balogh]
Everyone knows about the Crusades in the Holy Land. But what about the Crusades in the Baltic? For 300 years, the Teutonic Order waged war across the Baltic, Poland and even Russia to bring Christianity to the last Pagan peoples in Europe.
The Order was founded in Acre in 1190. After a brief stay in Transylvania, it found its calling in the swampy forests on the north-eastern edge of civilization. Under its Grandmaster Hermann von Salza, the Order established a military mini-state devoted to holy war. Trudging though snow and frost, its heavily armed knights and swarms of crossbowmen raided villages, built castles, and brought Christianity to the heathen.
Germans, Poles, Russians, and everyone else have often depicted the Northern Crusades as violent—yet glorious—race-wars. On the other hand, many modern historians have downplayed this interpretation. Who is right? Were the Teutonic Knights evil predators, noble holy-warriors, or something else entirely? Gregory Conte and Warren Balogh explore this dark and nearly forgotten chapter of European history.
Books Discussed:
Teutonic Knight by David Nicolle (Osprey Publishing)
Crusader Castles of the Teutonic Knights by Steven Turnbull (vols 1 and 2, Osprey Publishing)
William Urban. The Teutonic Knights a Military History (a dry but straight forward overview)
Eric Christianson. The Northern Crusades (a rather tedious academic study)
Hans Delbrück. Medieval Warfare
Dambriunas and Schmalstieg. Beginner's Lithuanian (a solid introduction for anyone interested in this important Indo-European language… or anyone looking lead NATO-auxiliary troops in the coming war with Russia, lol)
Comprehensive, German-language histories:
Albert Ewald. Die Eroberung Preußens durch die Deutschen
Karl Lohmeyer. Die Geschichte Ost- und Westpreußens
Intro song: From Sergei Prokofiev's Battle on the Ice
Outro song: Preußens Gloria