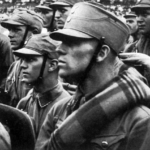 Prussian Socialism Episode 19: Goethe's Faust, Part 2
"Faust Part 2" is the ultimate expression of the European cultural idea. In this vast, 7000-line poem, Johann Wolfgang von Goethe lays out his mature worldview.
There is hardly a topic that Goethe does not deal with: metaphysics, ethics, economics, politics, poetics, even geology. While "Faust Part 1" mostly sticks to the traditional Faust-story, "Part 2" creates a gigantic poetic-allegory. Faust ceases to be a mere lust-driven scholar and transforms into a personification of Creative Power.
With his servant, Mephisto, Faust travels across Germany and Greece, all through the ages, striving to satisfy his urge to create and to know. Along the way he meets gods, men, mythical creatures, literary heroes—the full imagination-world of Western culture.
In this episode, Gregory Conte and Romanized Visigoth ("Roman") sketch the basic themes of this sprawling poem. "Faust Part 2" is not an easy work. Goethe was a 200-IQ genius who had comprehended Western art and philosophy from the Greeks on. But why does this universally recognized masterpiece of European literature get so little attention today? Could it be because of the Jews?
Books mentioned:
Faust, by J. W. Goethe, translated by Walter Arndt. This version has very good explanation and analysis, especially for Faust Part 2.
The Life and Work of Goethe by J. G. Robertson