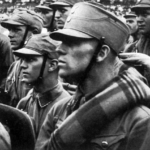 Prussian Socialism Episode 18: Goethe's Faust, Part 1
Johann Wolfgang von Goethe (1749-1832) was one of the greatest and most versatile poets of all time, a rival to Dante, Shakespeare and Vergil.
His masterpiece is the philosophical epic Faust, which he worked on for over 50 years.
In the traditional Faust-story, Faust sells his soul to Mephistopheles in exchange for 24 years of sin and fun. In Goethe's re-telling, Mephistopheles is bound until Faust is content with life (Werd' ich zum Augenblicke sagen, "Verweile doch, du bist so schön").
Faust, Part 1 is concerned with Faust's attempts to find satisfaction in his personal life, especially by seducing the innocent girl, Gretchen. In Part 2 (not discussed in this episode), Faust goes out to work his will on the world.
Faust is generally considered the most important work of German literature, and one of the most consequential in all of European history. It is a great loss that it is barely known in America and Britain.
Greg Conte and Romanized Visigoth ("Roman") recount the facts of Goethe's life and the plot of Faust, Part 1. They then discuss some of the main ideas.
Translations:
Kaufman, Walter (Jew). Edition contains Faust Part 1 and a couple scenes of Part 2, German and English on facing pages.
Arndt, Walter (Dartmouth professor). Full translation of parts 1 and 2. Lots of good notes and explanatory analysis.
Turns out both translations that I have read are by a Jew and a anti-German traitor (Arndt). It's not really a big deal. You can only screw up a translation so much.
There is also a 19th century translation by American poet Bayard Taylor available online.
Biography of Goethe mentioned:
The Life and Work of Goethe by J. G. Robertson
In German: Faust, der Tragödie Erster Teil