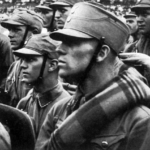 Prussian Socialism Episode 16: The Disintegration of the Roman Republic
In 202 BC, the Roman Republic was at its height. It had beaten Carthage its most dangerous rival in the Western Mediterranean and was now free to go on a career of expansion and exploitation.
In the following 50 years it conquered Greece, much of Spain and north Africa. The Romans got filthy rich. But in the next 70 years it began to break down, a victim of its own success. The Patricians became greedy and undutiful, snatching up land and gold and squeezing the soldiers and peasants ever harder.
After the final defeats of Carthage and Greece in 146 BC, a series of politicians tried to combat the ills that were tearing the Republic apart. In this lecture, Gregory Conte discusses the lives of Tiberius and Caius Gracchus, Marius and Sulla. It them, we see the sort of men and the sort of methods it will take to overcome America's own political problems.