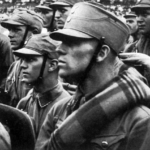 Prussian Socialism Episode 15: The Rise of Rome and the War with Hannibal
A petty Italian city-state went on to conquer Italy and dominate the Mediterranean. At first a town of little consequence, Rome was forced to become a regional power after it was humiliated by invading Gauls in 390 BC. After consolidating its power in Italy, Rome came into conflict with the great sea-empire of Carthage, with whom it fought two titanic wars from 264-202 BC. Rome won, but just barely. It took the steadfastness and organization, plus the genius leadership of P. Cornelius Scipio Africanus to save its state and bring Carthage to its knees.
In this lecture, Gregory Conte gives an overview of the rise of Rome and the Punic Wars and their meaning for Europeans and Americans today.
Books Mentioned:
Scipio Africanus Greater than Napoleon by B H Liddell Hart
Hannibal Enemy of Rome by Leonard Cottrell
A Critical History of Early Rome by Gary Forsythe
Ancient sources:
Livy Ab Urbe Condita
Polybius
Plutarch