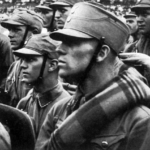 Prussian Socialism Episode 14: Napoleon and the German War of Liberation
Napoleon humiliated Prussia at the twin battles of Jena and Auerstedt in 1806, reducing Berlin to a French vassal. After Napoleon's defeat in Russia, the German states rose up against their master. But it was not easy. The Emperor returned to Germany with a new army to beat down the Prussians, Russians and Austrians, and to keep hold of his continent-spanning empire.
Greg Conte and Warren Balogh discuss what the German War of Liberation meant for Germany and for Europe.