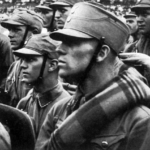 Prussian Socialism Episode 13: Guderian and the Blitzkrieg
It's August 1941, do you drive on Moscow or the Ukraine? Take Moscow, and Germany deals a huge blow to Soviet moral and cripples the USSR's logistical system. Take Ukraine, and Germany captures hundreds of thousands of Soviet troops and secures the breadbasket of Europe. Of course, history can only play out one way. Hitler ordered a drive on the Ukraine. But what if he had ordered an all-out attack on Moscow? Could Germany have won the war in the East in 1941?
After the war, many generals argued that Germany could have won. Prominent among them was tank-warfare theorist and Panzer commander Heinz Guderian. In his post-war book Panzer Leader, Guderian recounts his role in shaping Germany's armored units and doctrine, arguing that Germany could have won if Hitler had listened more to his generals. Was Guderian right, or was he just coming up with excuses?
Greg Conte discusses Guderian's arguments and record, and the role of mechanized warfare with fellow autiste and WWII-enthusiast Hans.
Books mentioned:
Heinz Guderian Panzer Leader
David Irving Hitler's War
Friedrich von Mellenthin Panzer Battles
Erich von Manstein Lost Victories