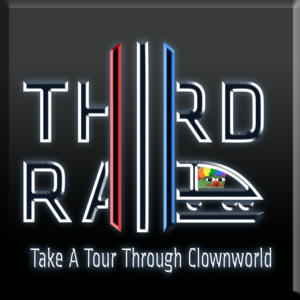 Dark Enlightenment, Borzoi and Spectre welcome author/fighter James LaFond to discuss food deserts and masculinity, how language and race are intertwined, the culture of urban violence and gentrification, and more.
BONUS: A cozy reading of Wyatt Pille's "Da Night Befo' Chrisz'muh."
*This episode brought to you by Wyatt Pille.
Producer: Frank
Twitter
@edwardbchang
@the_godcast_tjc
@CEOErickHayden
@realDharmakirti
 Outro Song:
(We're All Gonna Make it) For my Kings by StormKing
Buy James LaFond's books on Amazon
The Anatomically Correct Banana
Wyatt Pille's "Da Night Befo' Chrisz'muh"
Twas a night before Christmas and all thru da hood. Not a nigga was stirrin so shit wudnt no good.
Dem reebocks wuz hung by tha tv wit cur. In hope that some honkeys shit would be thur
The lil bastads wuz asleep all snug in they bed. While visions of Popeyes danced in they heads.
Big mama in her hair net and I in my cap. Had just settled down for post stealing nap.
When out on the lawn some nigga started to bump sound. I jump out my bed finna yell fuck and get down!
The glow on the tiddy of that drugged out crack hoe made it bright as a mofucka to shit down below.
Then what to my wandering eye should roll up, but some lil niggas sled and eight tiny pitbull pups.
With a little old nigga so lively and fast, I knew in a moment he must be drugged off his ass.
More scary than pigeons his pit pups, they flew and he whistled and shouted and called them by name:
"Now, De'Onte! Now Candy!
Now Alexus and Vatrees!
On Comet! On Cubano!
On Donna and Blister!
To the top of da Window! To the top of da wall! Now twerk away! Twerk away! Twerk away all!"
As dry tobacco before that big sneeze fly, when they run from tha police, jump to the sky so up on my roof top these niggas they flew with sled fulla shit and this wildin nigga too!
And then with a tappin, I heard on the roof, the scraping and clawin as dem lil shits pawin.
As I drew my gun and was turnin wit ire. Down this nigga came from out of my fire
He was dressed all in gucci, from his head to his foot. But his clothes wear all fucked up from ashes and soot.
A bag fulla shit he had slung on his back and he looked like a burglar just opening his pack.
His eyes- how they shifted! His dimples - the fuck is a dimple?! His cheeks were dark as coal, his nose wide as a chevy! His big lips were drawn up like a bow and that fine ass beard was white as the snow. The glass from a crackpipe he held firm in his teeth, and the smoke it encircled his head like he on fiya. He had a big head and a round little belly that shook when he sneezed like a bowl of mama's jelly.
He was chubby and plump, a real thicc ole nigga and I laughed when I saw that whole ass a wigglin. A twitch of his eye and a twist of his head. Soon gave me to know this nigga inbred.
He spoke not a word, but went straight to his work and filled all dem reebocks, then turned with a jerk. And laying a finger inside of his nose and giving a nod up the chimney he rose!
He sprang to his sled, to his pups gave a hoot, and away that nigga flew like popo had seen him shoot.
But I heard him yellin as he drove out of sight,
"Merry Christmas to all! And yo, man, anyone gots a light?"
Shakespeare in the Bush
http://www.naturalhistorymag.com/picks-from-the-past/12476/shakespeare-in-the-bush
https://therightstuff.biz/
https://national-justice.com/
https://themannerbund.com/