We only get partially newscucked this week. But we have it under control. Next election coverage: June!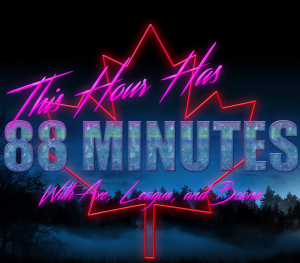 I am Axe in the Deep, joined by co-host League, and intern Johnathan Boone. Guest this week: Zeiger
Current day edit: Doug Ford officially won after we finished recording the episode. Christine Elliott plotted to use the courts to challenge the victory, but eventually gave up because she didn't want to be Hillary.
We can be reached at TRS, DS, twitter, sometimes comments on youtube mirrors, and at [email protected]
Bitcoin address: 138qSjWuZd9McANwqf6iDbaV1MWjELz8Sr
Our RSS feed: https://media.zencast.fm/this-hour-has-88-minutes/rss
Buy some coffee from https://risingsuncoffeeco.com/
See content at http://greatwhitenorth.xyz
Upload videos at http://pew.tube
Some stuff mentioned this week:
http://www.cbc.ca/news/canada/toronto/doug-ford-christine-elliott-meeting-1.4571798
https://www.ctvnews.ca/canada/outrage-over-use-of-yellow-badges-to-protest-use-of-jewish-buses-in-montreal-area-1.3831299
http://www.cbc.ca/news/canada/manitoba/cmhr-10-dollar-bill-1.4567809
Justin Trudeau keeps saying science minister is a Nobel Prize winner; she's not
http://www.cbc.ca/news/politics/brenda-lucki-rcmp-commissioner-1.4569430