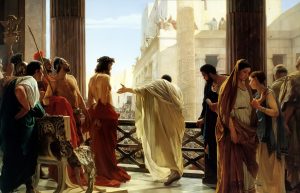 Welcome to the GodCast! We test a new format out so please let us know how you like it! On the first segment, MPoland and General B talk distractions to the mind and spirit. Then SuperLutheran debuts a new Devotional Segment. Then finally on the final segment, RightWingNut and Paisios talk Gnosticism. Enjoy!
If you'd like to get in contact with us- [email protected]
If you'd like to follows us on twitter- follow @thegodcasttjc
If you'd like to donate, do so at- [email protected]
If you'd like to be apart of our Christian Fellowship and Bible Study group, create a FB sock account and find the FB group "The Godcast: Christian Alt Right Discussion Group" and join. Make sure you answer the questions!
Provernbs 27:17-As Iron sharpeneth iron, so a man sharpeneth the countenance of his friend.
God Bless