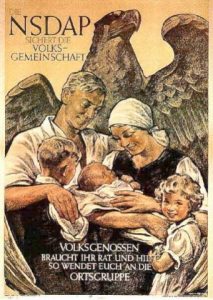 The goal of this contest was to find and award the best pro-White baby making video propaganda and use it to promote White births. It worked in Denmark; we can make it work throughout the White world. We don't need "New Americans" and "New Europeans" - we can make them ourselves!
Because of the post-Charlottesville media Shoah, we realized no video was going to get 10,000 views on YouTube. So we talked with our benefactors - those providing the prize money for the Third Rail White Baby Video Promotion - and we changed the winning criteria and how these were judged.
They were judged based on input and comments from viewers, with the final decision made by the panel of Lauritz, Charles Lyons, Bryden Proctor and Spectre.
The winning prizes will now be awarded proportionally to all entrants. We have to work out how to get the prize money to the winners -  to protect everyone's OPSEC including our donors and winners - but here's the prize breakdown.
1st Place: $1,100 plus $500 Bitcoin
2nd Place $300
3rd Place $200
4th Place $100
5th Place $50
Every entry was solid and they should be spread far and wide as propaganda to encourage White births. Thank you for entering!
And the winners are.....(DRUMROLL)
1st PLACE
Replacement Migration - How the West Can Prevent Disaster by Zonwending
https://www.youtube.com/watch?v=xqLUR47pKK0
2nd PLACE
Whites Against Replacement by Matthew Drake
3rd PLACE
End White Guilt - Have More White Babies by Dannerskjold Holdings

https://www.bitchute.com/video/S4YRRD8Qpmuu/
4th PLACE
More White Babies Please by Lord Molyneaux

https://www.youtube.com/watch?v=_A6OX9DGrfk&t=5s
5th PLACE
The Great Replacement by Meme Engineering Co.

https://www.youtube.com/watch?v=vQ5cfGB-RCk&feature=youtu.be
Congratulations to all
Winners - we've spoken by email so email me again and we'll start working out how to get you paid. [email protected]